Sales & CS Alignment
Scroll down to view curriculum
Be notified when applications open
Overview
Effective alignment between sales and customer success is vital for driving revenue growth and guaranteeing customer satisfaction. We've crafted a comprehensive course to empower sales and customer success leaders with the expertise and abilities that are essential to establish cross-functional alignment, leading to enhanced customer outcomes and heightened business achievements.
Through interactive sessions and practical exercises, participants will learn invaluable insights, proven strategies, and industry best practices. Students will gain a deep understanding of how to foster collaboration, streamline processes, and optimize customer engagement. You'll walk away from this course with a ready-to-use playbook packed with actionable alignment strategies that you can implement immediately, resulting in tangible revenue generation.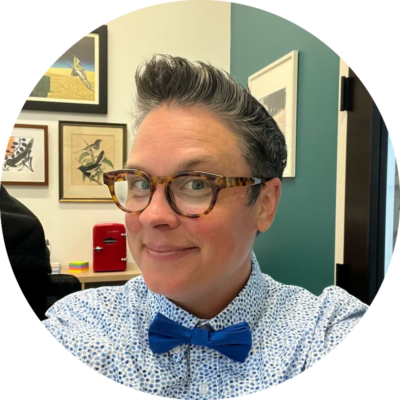 Designer
Layton Chaney is a thought leader and pioneer in the customer experience space. For over two decades, they have successfully grown and scaled companies while ensuring customers stay at the heart of the business and the focus of every step of the Customer Journey. As the founder and Chief Experience Officer of their consulting firm, BetterGrowth, they have coached start-up founders, Fortune 50-500 companies, and C-level executives on how to leverage the voice of the customer to increase their brand awareness and ROI.
They are also a fierce advocate for diversity in tech and have helped companies build their diversity, equity, and inclusion framework, recruiting practices, and training programs for underrepresented populations, especially within the intersections of the LGBTQIA+ community.
About
This 3-week course focuses on the importance of aligning sales and customer success teams to drive revenue growth and ensure long-term customer satisfaction. Students will participate in interactive sessions and practical exercises, enabling them to learn effective strategies, best practices, and techniques for fostering collaboration, streamlining processes, and optimizing customer engagement.
Who Should Enroll
This course is designed for revenue leaders that play a part in the development and management of the customer experience or revenue generation at an executive level..
Impact
By the end of this course, you will be equipped with the knowledge and skills to:
Increase revenue generated and customer satisfaction

Prioritize and align CS efforts across functions

Identify upselling and cross-selling opportunities

Maximize customer lifetime value
Why Enroll
Sales and Customer Success alignment plays a pivotal role in the overall success of an organization, directly impacting revenue generation and customer satisfaction. By aligning these two functions, organizations can create harmony that synchronizes CS efforts.
Session #1
Unleashing the Revenue Potential
By the end of this class, you will be able to:
Recognize the benefits, challenges, and impact Sales and CS alignment has on organizational success
Analyze the customer lifecycle and identify touchpoints where sales and customer success teams interact
Develop strategies for the common barriers to alignment and address communication gaps, conflicting objectives, and organizational silos
Session #2
Forging Stronger Bonds
By the end of this class, you will be able to:
Develop a shared customer-centric vision: Align goals, metrics, and incentives to prioritize customer outcomes
Establish regular communication channels, foster cross-functional collaboration, and promote knowledge sharing
Create a unified sales and customer success process and streamline workflows, handoffs, and feedback loops to ensure a seamless customer experience
Leverage technology for alignment as well as explore tools and platforms that facilitate collaboration, data sharing, and customer insights
Session #3
Sustaining Growth and Success
By the end of this class, you will be able to:
Identify key performance indicators (KPIs) to measure alignment success and track overall team performance
Implement feedback loops, coaching programs, and performance reviews to drive ongoing improvement
Encourage skill development, training initiatives, and knowledge sharing to empower both sales and customer success teams
Adapt strategies and processes to align with changing customer needs and market dynamics
Frequently Asked Questions
This school is included in the cost of a Pavilion Membership.

At this time, this school is open to Pavilion Members only. Apply to join Pavilion to enroll.

This course starts on July 12, 2023, and lasts 3 weeks.

Applications are currently closed.

Live, virtual sessions occur weekly on Wednesdays 1:00 pm - 2:30 pm EST.

Due to the length of this course, there will be no cohorts.

No, there is no final exam at the end of this course.

Yes, 100% attendance is required. We recommend that participants attend the live sessions for the optimal learning experience. However, watching session recordings count toward attendance for those who have scheduling conflicts or are in time zones where live attendance is a challenge.

After successfully meeting attendance requirements, you will receive a certificate of completion for this course.