Refer a Friend Today
Connect your peers with other Executives from top
B2B SaaS companies, helping them become even
better leaders – because at the heart of Pavilion
membership is community-powered learning.
Earn $250* when your Executive-level referral joins.
Help your peers unlock and achieve
their professional potential

Sign up online to create your referral link

Share your link with your network

Earn $250* when your Executive level referral joins
*Or earn $50 when your Associate referral joins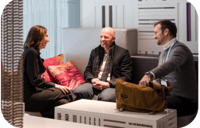 Referral Dashboard
Already a part of the Pavilion referral program?
To see detailed stats and more ways to share, log into Referral Rock and visit your referral dashboard
Frequently Asked Questions
When you refer a peer by sharing your referral link, receive $250 via PayPal when an Executive Referral joins or $50 when an Associate joins.

You will receive an email from Paypal with the subject line "Your Referral Reward from Pavilion". The email will go to the address you shared on your application.

If you do not redeem the reward in 30 days, the payment will be reissued to Pavilion.

No worries, PayPal will prompt you to create an account and you can then redeem your referral reward.

You will need to add an additional email to your existing PayPal account to redeem your reward. Learn how here.

Yes, you can. Note that the referral reward is given in USD and if you live outside of the US, you will need to first convert the referral reward to your local currency. There is a fee associated with converting currencies. Read more here.