CMO School
Scroll down to view curriculum
Be notified when applications open
Overview
From brand to demand, the CMO helps inform everything from go-to-market to long-term growth strategies – arguably one of the most critical functions on the executive team.

During this 10-week comprehensive program, you will learn from some of the top CMOs in the U.S. about strategies, tactics, and approaches that will help you strengthen all of the dimensions needed to be a successful CMO today and always. You'll discuss topics like how to build a world-class team, budgeting, scaling, attribution, demand gen, forecasting, brand building, and much more.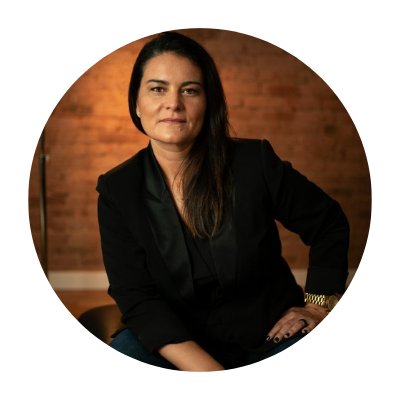 2023 Dean
Andrea Kayal is currently CMO at Electric where she serves the Marketing, Sales Development, Business Development, and Partnerships teams. She has over two decades of experience overseeing GTM strategy, demand generation, brand message and design, product, content and customer marketing, customer retention and more. Prior to Electric, Andrea served as CMO at Upserve, Signpost, and Sailthru. She is an active advocate for the advancement of women in tech and LGBTQ rights.
About
During this 10-week course, you will discuss strategies, tactics, and approaches to building and selling a budget, learn how to structure and leverage the different areas of marketing to drive growth and revenue, calculate ROI on marketing campaigns, and drive sales and marketing alignment.
Who Should Enroll
This school is designed for marketing leaders seeking advancement into the C-Suite, first-time CMOs looking to learn the ropes, and established CMOs seeking to expand their skills.
Impact
By the end of this course, you will be equipped with the knowledge and skills to:
Use benchmarking data to build your budget and sell it internally
Build out and structure demand generation, product marketing, customer marketing, and content to better drive customer acquisition and revenue growth
Calculate the ROI on marketing efforts using the 7 keys, including asking for organizational goals upfront and getting sales buy-in first
Drive sales and marketing alignment by creating joint responsibilities and defining joint KPIs
Why Enroll
Marketers today are struggling to keep up with new demands, including the ever-evolving way customers want to be sold. This course will give you different perspectives and tactics on how to navigate the evolution of marketing and your customers' needs.
Session #1
Orientation
By the end of this class, you will be able to:
Balance the C and M in your title
Develop a bi-directionally fulfilling relationship with the CEO
Set yourself up for success from the start by establishing foundations with your team and the executive team, as well as asking the important questions before you accept a job
Session #2
Planning for Success:
Budgeting, Attribution, and Demand Gen
By the end of this class, you will be able to:
Sell your budget internally
Use benchmarking data to build your budget
Using budgeting structure (modeling) to build a good budget
Re-budget and re-forecast
Session #3
The Art of Fundraising Through IPO
By the end of this class, you will be able to:
Build a brand from the top down or bottom up, as building a great brand means better outcomes by ten to twenty times
Create an attention-grabbing board pitch
Hire and build the right people early on, including investing in product marketing, operations, and design
Use the Net Dollar Retention model to raise money
Session #4
Marketing Tech and Operations
By the end of this class, you will be able to:
Select different KPIs to measure the effectiveness of inbound vs. outbound
Use ABM for improving sales and marketing alignment, as a joint focus is key
Establish a regular cadence for stakeholders and check-ins on leading indicators
Create a buying council for technology that includes involving some people early, and some toward the end
Session #5
How Building an Iconic Brand Boosts Demand Generation (Ask Me Anything)
By the end of this class, you will be able to:
Define your demand gen outcomes such as revenue growth, target account efficiency, and opportunity cost
Calculate the ROI on your efforts using the 7 keys to a great marketing budget, including asking for organizational goals upfront and getting sales buy-in first
Create a reporting structure based on the customer's stage in the buying process
Session #6
Customer and Retention Marketing
By the end of this class, you will be able to:
Involve customer marketing at every level of the buyer and customer journey
Have customer marketing live in both product marketing and demand generation
Use Net Dollar Retention as the top success metric for customer marketing and high growth
Session #7
Why Every Company is Becoming a Media Company (and How You Can Too)
By the end of this class, you will be able to:
Recentralize content to easily find and update branded content as your brand and messaging evolves
Avoid using cookies to place a renewed importance on collecting and engaging first-party data in order to impact business outcomes
Build trust with your community by handling their data and privacy with integrity and by providing valuable content in exchange for their contact information
Turn your organization into a media brand using the 5 tactics such as evolving your content team into an editorial team, and more
Session #8
Product Marketing
By the end of this class, you will be able to:
Use product marketing to create consistency, clarity, and momentum for product and feature launches
Improve your product launches by developing a messaging house, building an end-to-end project plan, creating an internal communication playbook, and more
Session #9
Sales and Marketing Alignment
By the end of this class, you will be able to:
Complete a customer journey map with sales
Get aligned on joint KPIs including your north star metric and by building a centered marketing/sales dashboard
Present together at board and executive meetings, including having one section that you both speak to
Learn that proximity is everything, whether it is sitting together in the office or finding an excuse to be in person with the Sales Leadership whenever possible
Session #10
How to Prepare for a Board Meeting
By the end of this class, you will be able to:
Better focus yourself and your priorities as Chief Marketing Officer
Adapt your board deck based on the stage of your organization
Anticipate and learn what your board wants to see from you
What Our Students Have To Say
"We learned from a bunch of pro-CMOs and board members and at the end of the day, gained a ton of confidence/validation from it. If you're in sales and marketing, especially in SaaS, I recommend checking out Pavilion for endless learning opportunities."
Alex Altvater
Director of Marketing, Smart Warehousing
"This was absolutely eye-opening for me. I've spent most of my career in sales leadership roles. My favorite part of CMO School was being the only 'Sales-ish' leader in my cohort class and discussing Sales & Marketing alignment with a crew of Marketers. Game-changing to see the perspective from their eyes."
Brandon Roberts
GM & CRO of North America, Xplor
"When I started at EDE Corporation, I was excited to take on the added responsibilities of Marketing. With so much to learn and not sure where to start, I was thrilled to hear about Pavilion's CMO school. I had no idea what an amazing resource it would be! The amount of knowledge gained in that time is priceless! I'm so appreciative of the program and the relationships built during that time."
Jay Menashe
SVP of Sales and Marketing, EDE
Frequently Asked Questions
This course is included in the cost of a Pavilion Membership.

This school starts on September 12, 2023, and runs through November 14, 2023.

Applications are currently closed

Live, virtual sessions occur weekly on Tuesdays from 1:00 pm – 2:30 pm ET.

Yes, there will be cohorts for this school. Cohorts meet once per week at a selected day/time during the duration of the program.

Due to the peer element of Pavilion University, we see increased engagement from students which strengthens your ability to recall and apply learnings.

Yes, there is a final exam at the end of this school. A passing score of 80% must be attained in order to receive your certificate.

Yes, 80% attendance is required. We recommend that participants attend the live sessions for the optimal learning experience, but watching session recordings count toward attendance for those who have scheduling conflicts or are in time zones where live attendance is a challenge.

After successfully meeting attendance requirements and passing the final exam, you will receive a certificate that you can add to your Licenses and Certification Section on LinkedIn.