January 6, 2022
Your #1 Selling Secret in 2022 — Converting Discovery Into a Quantified Pain Statement
Mike Genstil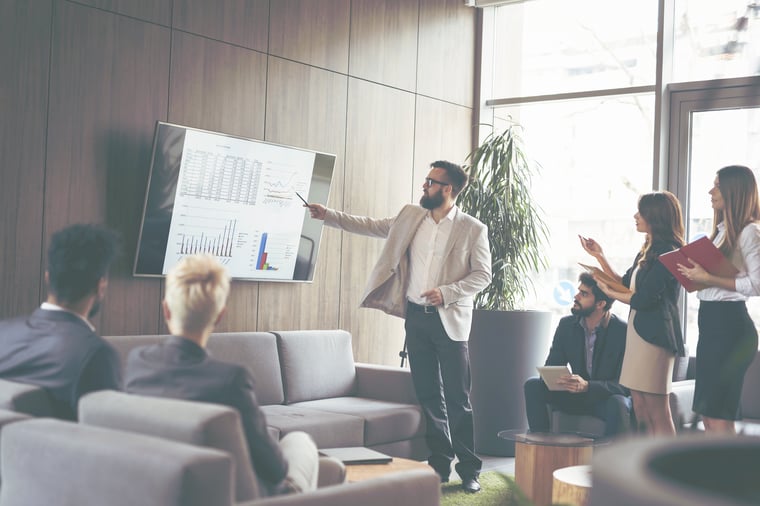 Value-based selling, or leading with the value or ROI your solution creates for buyers, can help make every stage of the sales cycle more meaningful and relevant. However, when to introduce the concept of value and ROI quantification is the million-dollar question as organizations develop a value-selling motion.
The short answer is easy: discovery. 80% of the sales process happens in discovery — a massive statistic that illustrates the importance of establishing the potential value and benefits your solution brings to the table early in the sales process.
The key is setting up your sales teams with a compelling experience that equips them to capture essential information and pain points from the customer, while delivering an actionable summary of the discussion, including a quantified pain statement. To achieve this, you must provide sales reps with the right questions, data sources, and technology.
Lead and win with value
By the time most buyers knock on your door, they've already received many messages from related solutions in your category. They likely have a level of information overload that makes their initial discussion with you loaded with perceptions. The good news is that while there's no shortage of information about different tools and vendors, you have an opportunity to differentiate by providing a clear demonstration of value.
Overcoming these perceptions and clearly communicating value is more challenging in a remote selling world. Since the pandemic began in early 2020, our selling motions — for both inside reps and field reps — have changed dramatically. It's now incumbent that we maximize each digital touch as the likelihood of deep discovery and in-person relationship building is much lower.
If you successfully blend open-ended with structured, value-based questions, you can not only uncover, but also quantify the buyer's pain points during discovery. With this knowledge and resulting quantification, sellers are well-positioned to communicate the value of your solution throughout the remainder of the sales cycle.
Embedding quantification in your sales methodology
Successful selling requires connecting with buyers in both emotional and rational ways. Every sales methodology involves pain quantification. Buyers will qualitatively state they want their workflows to run more smoothly to optimize outcomes and reduce variability. If we can also quantify the value of such improvements, we can now connect on both a rational and emotional level.
For example, imagine selling a solution to optimize and reduce a customer's fuel consumption. If you can help the buyer quickly understand that they will save $500/ month in fuel expense, that may dramatically impact their interest in understanding your solution.
The right discovery questions and exploration are a way to drill down to the root cause of an issue — and the impact the business will see by solving it. A quantified pain statement is the first step to uncovering real business impact and ROI.
How to convert discovery into a quantified pain statement — and see real results
Every sales team needs some basic understanding of how to calculate where customers derive value from your solution or service. Sellers should be able to calculate this value based on a minimal amount of information they have about the customer. ​​
In most scenarios, sellers should be able to ask a few questions that will quantify the prospective pain size for a buyer. These questions can include demographic items, such as employee counts and financial information, and operational info about the specific domain your solution addresses. Upon collecting this information in a short conversation, you should be able to produce a quantifiable pain statement and a conversation track. This is easier said than done, however, as many sales organizations don't equip sellers with the tools and resources required to quantify buyers' pain effectively. Here are three ways to get there:
1. Develop a simple pain quantification model — boiling the ocean not required
To clearly showcase value, back into calculations that illustrate impact & ROI through the following lenses. From there, you can tie ROI calculations together to drive home the value of your solution. You can also use case studies or analyst research to support your calculations.
Hard cost savings.

Hard costs are what prospects are spending with external vendors. These costs can refer to raw materials and one-time or recurring services and solutions.

Productivity gains.

Soft costs are the costs prospects are spending with their internal team. When the team is optimized internally , your prospect gains more value from their productive time, allowing them to deliver better results and focus on higher value-added activities.

Revenue acceleration.

Prospects can accelerate revenue by acquiring more new customers more quickly, increasing the amount of money customers spend, and reducing the rate at which they churn.

Risk mitigation.

Every business process has inherent risks. Some risks originate from internal sources, such as errors employees may make when entering payroll, and others may originate externally, such as hackers trying to steal your passwords. The costs of preventing and recovering from negative incidents can be quantified and reduced.
2. Invest in training and role plays with simple conversation tracks
Training and sales readiness are huge parts of any effective sales strategy — and training teams to lead with pain and value quantification can shorten sales cycles, maximize deal sizes, and increase win rates.
Let's explore how this looks through a hard cost savings lens in the context of our fuel savings model. A rep could theoretically ask the customer, "How much are you spending on fuel today?" They may or may not know, and they may or may not share this information even if they do know.
Conversely, the rep could ask the customer related questions, such as, "How many miles do you drive each day, and what kind of vehicle do you drive?" Based on their geographic location, and publicly available information, the rep could calculate an estimated monthly fuel cost.
As an alternative, in case the customer doesn't have the information readily available, the rep can be equipped to make an "educated guess" regarding how far the customer drives each day, and the type of vehicle they drive, to come up with an initial estimate. Once the rep establishes that the customer spends $5,000/month in fuel (for example, for a long-haul truck), then the possibility of saving $500/month might be feasible.
This does not have to be hard. Sales reps and managers should want to go through this training, particularly if they are selling solutions that have an Average Contract Value of at least $50,000. If they are authorized to provide price quotes of this magnitude, they should be equipped to help the buyer quantify the cost of doing nothing for their internal management.
3. Deploy an application that leverages and optimizes your CRM investment
An easy-to-use, CRM integrated solution is a must-have for any modern sales team, and focusing on value selling can help teams get more value from a CRM investment. Sellers can save time by automatically pre-populating discovery tools with data from the CRM to drive a value-based discussion and show more impact.
Communicate value with the right tools
Value-based selling puts the environment and needs of the customers first. When sales reps take a more consultative approach, leading with ROI to clearly communicate value, they'll not only close more deals more quickly, but build trust that results in more long-term customers. End-to-end value tools and visual ROI calculators empower sales and marketing organizations to present compelling value propositions to prospects and customers.
By integrating with CRM, marketing automation (MA), and data platforms, ValueCore (previously known as VisualizeROI) ensures value Is quantified consistently and enables the transformation of customer-facing presentations, proposals, and ROI & TCO spreadsheets into beautiful, dynamic assets that can be used at each touch in the customer lifecycle for higher win rates.
Join us on January 12 at 2pm EST as Mike Genstil, Founder/ CEO of ValueCore, describes how to maximize the value of your CRM and enriched data to create a next-generation discovery session. Register now.
If you can't attend this session, but would like more information, please visit www.valuecore.ai or email value@valuecore.ai.
Subscribe
Subscribe Here!