July 14, 2021
Bookings vs. Collections-Based Compensation: What to choose for your SaaS product?
Adithya Krishnaswamy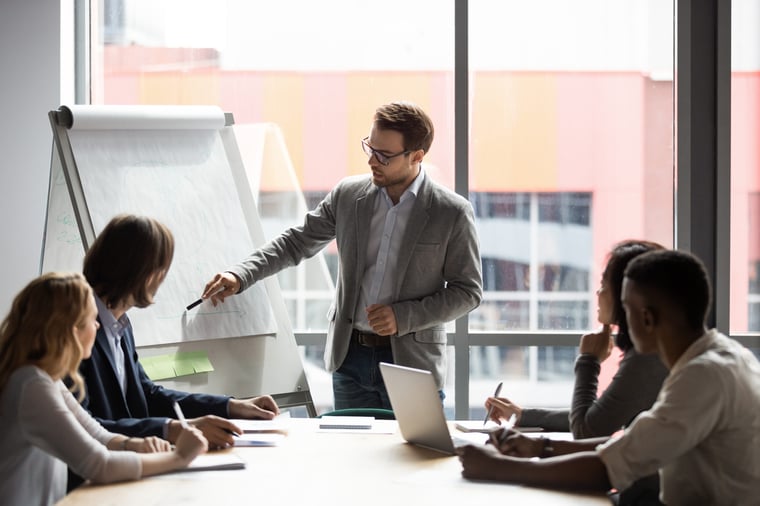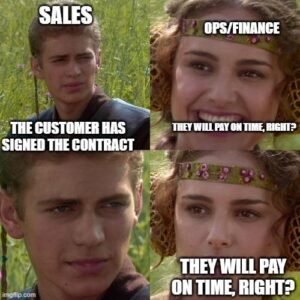 You might be chuckling at the above meme. But, hey, it's funny because it's true…err… painfully true. It speaks volumes about the conflict between the Sales and Ops/Finance teams regarding sales compensation.
Customers signing the agreement to purchase the product means nothing until the money hits the bank, right? And customers void contracts ALL the time. It is not feasible to keep suing every customer who churned because they didn't like the product.
Every sales leader here can relate to the problem that finance and revenue operations have with paying against signed contracts.
Now, here's something to think about: should we all move to a collections-based model to address the concerns of finance and ops teams? Not exactly. Like every business decision, as long as the rewards outweigh the risks and there are guardrails set in place, you can afford to do bookings-based compensation.
Before discussing the risks, a quick refresher on what booking and collection-based revenue recognition means.
What is bookings-based revenue recognition?
The prospect has officially signed a contract with your company stating that they intend to purchase your product. Once this is done, you can send an invoice to the now customer-turned-prospect, who will honor the contract by paying within your due date.
In a bookings-based revenue recognition model, you agree to compensate your sales teams with commissions on the product that they sold right after the prospect signs the agreement instead of waiting until the money hits your bank.
What is collections-based revenue recognition?
In a collections-based revenue recognition model, you agree to compensate your sales teams with commissions on the product only after the customer honors the contract and pays the invoice.
Let's try to understand which model works best for the three critical teams involved in making this decision on revenue recognition policy.
The finance perspective
The finance team wants everyone to be paid based on collections. Without a money transfer, there is never a financial engagement between the firm and a prospect.
Also, this is the cleanest way of compensation from an audit and accounting perspective. You only pay out a percentage of the money you got which means your cash flow is fully protected, and there are no risks.
The sales perspective
The sales team wants to be compensated for bookings. They don't want to be involved in the administrative work that goes into collecting the invoice. That's not their core skill set and can easily be outsourced to a billing department.
They also want to keep moving from one account to another and keep doing what they do best: closing deals.
Sales teams are also okay to take a hit on their future paycheck if the customer they sold to did not keep up their end of the bargain and decided not to pay.
The RevOps perspective
The RevOps team is responsible for both revenue growth and budget. A collections-based system distracts sales reps from doing their best job as a closer, while a bookings-based system opens up for poor sales. RevOps' mandate is to find the right balance here.
So, with all this context? Which should you use for your firm?
Option 1: Bookings-based revenue recognition
If you go ahead with this option, you need to have certain guardrails in place.
An unambiguous clawback policy must be put in place that ensures bad sales by reps are punished, and the commissions paid to them are clawed back. Setting up such a policy isn't an easy task and would require unambiguous legal and finance guidelines along with sales alignment to ensure proper adherence.
Why should you go for Option 1?
If you are looking for growth, this one works as it is much easier to accelerate to your targets when reps are responsible for only closing and not for collections. Reps get to focus more and more on what they were hired to do in the first place: selling.
Cash flow issues are not a big deal for your firm

Based on past data, very few customers churn before paying the first invoice.
Risks involved
If the clawback amount is too much, the chances of reps leaving the firm before they pay you fully is very high.

Some brilliant reps can figure out how to abuse this policy to hit their bonus or kickers during the end of the quarter. So, watch out for harmful patterns and curb them.
Option 2: Collections-based revenue recognition
If you want to go ahead with this one, then you need to solve for sales motivation. If reps are paid on collections, they have no incentive to hit their bookings quota every month.
So, you can solve this by paying X% (<50%) on bookings to ensure your quarterly predictability is on point. Pay the remaining post collections.
Why should you go for option 2?
You are an early-stage startup unwilling to take cashflow risks and don't want to pay commissions solely on bookings.
Based on past data, you see a very high chance of customers churning, and hence you want to play it safe.
Risks involved
If you choose to do 100% collections-based compensation, you are opening yourself up to risks on the hiring side. Sales reps can select companies that offer bookings based commissions.

You lose out on bookings predictability. Most of the annual goals for SaaS companies are ARR targets that are usually bookings-based, and if leadership can't roll it down to reps, they lose the forecasting ability.

Regular quotas are no longer relevant as collections are not time-bound. Companies are more likely to not pay by the end of the month as they are focused on their customers more than vendors. Then you might have to consider using unlikely sales goals, which itself isn't a bad idea. We folks at Everstage wrote down five

unconventional sales goals

and how they can help. But, ask yourself if that's the direction you want to take your business.
So, what are you thinking? Collections or bookings-based compensation? I hope this clears up the age-old debate on which compensation type suits you best.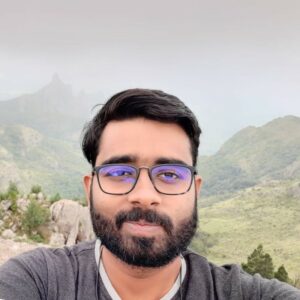 This article was written by Adithya Krishnaswamy, head of RevOps and Growth at Everstage, a Sales Commissions automation platform. Before that, he was part of Freshworks for five years, where he headed their RevOps efforts for Global Partnerships and the Rest of the World markets.
Subscribe
Subscribe Here!