July 12, 2023
The Struggle of Setting Clear Priorities: Why It's So Hard for Companies to Stick with Them

Rhonda Giedt

In today's rapidly evolving B2B technology landscape, setting clear priorities and consistently adhering to them is more critical than ever before. As C-Suite executives, we are well aware of the importance of establishing strategic priorities to drive revenue growth, yet the practical implementation remains a daunting challenge for many organizations.
In this blog post, we will delve into the core of this struggle by examining the complex factors that inhibit companies from setting and sticking to their priorities. Drawing on my extensive background with B2B tech companies, where I have led marketing initiatives for organizations spanning from start-ups to Fortune 150 companies and contributed to the successful exits of three companies, I will provide valuable insights into the delicate balance between adaptability and discipline.
Complex Factors Inhibiting Companies from Setting and Sticking to Priorities
Understanding the underlying factors that hinder organizations from effectively setting and maintaining priorities is crucial for overcoming these challenges. This section explores six key factors that often prevent businesses from committing to and executing their strategic priorities.
The Shifting Market Landscape
The B2B technology sector is characterized by rapid innovation, disruptive technologies, and constantly changing market dynamics. As a result, C-Suite executives often find themselves revisiting their priorities as new competitors emerge, customer needs evolve, and technological advancements materialize. While adaptability is essential for success in this dynamic environment, it can also make it difficult for companies to maintain a consistent strategic focus.
While working with a leading manufacturing company, the 3D printing team was focused on integrating additive manufacturing applications into an already established client base. Convincing customers of the benefits and need for 3D printing was not an easy sell. It was a task that took the entire team's focus.
During my time there, it became blatantly clear that the company needed to start creating 3D printed materials as well as selling the 3D printing application to clients. The rationale was that we could produce high-quality, specialized 3D printed materials that met our customers' needs at a more economical price. Yes, we needed to focus on selling 3D printing services but we also needed to think longer term of the needs of our customers. This shift in priorities was critical and strategic for the company.
The Paradox of Choice
In a world of abundant opportunities, narrowing down the options and committing to a particular course of action can be overwhelming. As a leader, you may be confronted with numerous potential revenue drivers, including entering new markets, developing new product offerings, or investing in sales and marketing efforts. While each of these paths holds promise, the challenge lies in identifying which ones will yield the highest return on investment and focusing your resources accordingly.
A matrix can help force a ranking in priorities and clearly show what is going to get the biggest results without getting sidetracked. There are several versions of this floating around the internet but to refresh your memory, here's one that I use when setting business priorities: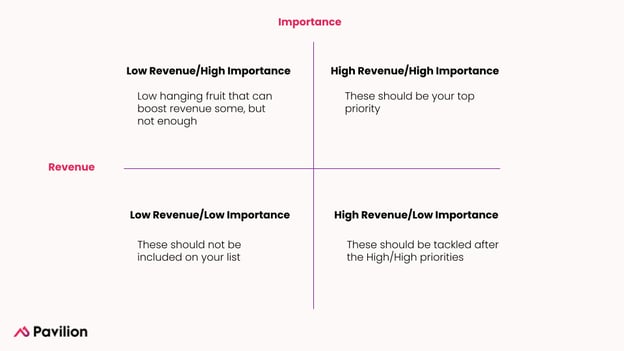 Competing Internal Priorities
In any organization, there will be competing interests among different departments or teams. Sales may prioritize short-term revenue generation, while product development might emphasize long-term innovation. Such internal conflicts can impede the process of setting clear priorities and create a lack of alignment, leading to suboptimal results.
Limited Resources and Constraints
All organizations face resource constraints, whether they are financial, human, or technological. With limited resources, it becomes crucial to allocate them effectively to maximize revenue growth. However, determining the optimal allocation can be challenging, leading to indecision and the inability to set and adhere to clear priorities.
Fear of Failure
In the high-stakes world of B2B technology, the pressure to succeed can be immense. This pressure can sometimes create a culture of risk aversion, where companies are hesitant to commit to strategic priorities for fear of making a mistake or facing negative consequences. This apprehension can inhibit organizations from setting clear priorities and fully investing in their execution.
Ted McKenna, the co-author of The JOLT Effect, said "The Fear of Messing Up is Bigger than the Fear of Missing Out". Many companies in today's economic climate are seeing this firsthand with longer buying cycles than normal. That same fear applied to making a definitive decision about company priorities.
Lack of Clarity and Vision
For a company to set and stick to its priorities, it is crucial to have a clear and compelling vision for the future. In the absence of a well-defined vision, organizations may struggle to rally around a common set of priorities, leading to fragmented efforts and reduced overall effectiveness.
Actionable Strategies for Overcoming Challenges and Setting Growth-Driven Priorities
Now that we have identified the key challenges that hinder companies from setting and sticking to priorities, it's time to explore practical solutions. In this section, we outline six actionable strategies to help organizations overcome these obstacles and set priorities that effectively drive revenue growth.
Embrace Market Agility and Develop a Flexible Strategy
To navigate the dynamic B2B technology landscape, organizations must be agile and adaptable. Continuously monitor market trends, customer needs, and competitor activities to refine your strategic priorities. Develop a flexible strategy that allows for adjustments, ensuring that your company remains focused on the most impactful opportunities.
Many executives entered 2023 with flexible budgets and strategies. This flexibility helps hone the focus and when milestones are met, additional budgets and programs are implemented. This tactic can leave teams feeling uneasy but it is a smart move in uncertain economic times.
Leverage Data and Analytics for Informed Decision-Making
Utilize data and analytics to evaluate potential revenue drivers and identify the most promising opportunities. Develop a data-driven decision-making process that takes into account factors such as market size, customer demand, and competitive landscape. This will help your organization make informed choices and set priorities with confidence.
Data can help make decisions easier, as long as you are measuring the correct aspects of the business. Baseline key metrics to measure are: revenue, LTV, CAC, funnel conversion, churn, and ACV. These should be tracked overall as well as by channel. Each company is unique and may have additional metrics they track but the baseline metrics will be across most B2B companies and industries.
I have worked with companies that were not measuring key parts of their business or did not have accurate data across the business. Data needs to be accurate and definitions of the data should not be a moving target. This will help the entire company get on the same page and highlight areas that are in need of help.
Foster Cross-Functional Alignment
Achieving alignment across departments and teams is crucial for setting clear priorities. Encourage open communication and collaboration between teams to ensure everyone is working towards a shared vision. Regularly review and communicate strategic priorities at all levels of the organization to maintain focus and alignment.
RevOps is a great way to accomplish teams becoming aligned. When the entire company understands the main KPIs they are working toward and agree on the definition of those KPIs, discussions turn from internally focused discussions to discussions that help move the revenue needle.
Prioritize and Allocate Resources Effectively
Establish a rigorous process for prioritizing initiatives based on their potential impact on revenue growth. Allocate resources to the highest-priority initiatives, while deprioritizing or eliminating lower-impact efforts. Periodically reassess resource allocation to ensure that your organization is investing in the most effective areas for growth.
Cultivate a Culture of Calculated Risk-Taking
Encourage a culture of calculated risk-taking that balances innovation with risk management. Emphasize the importance of learning from failures and iterating on strategies, rather than avoiding risks altogether. This approach will help your organization stay competitive and focused on growth while mitigating the fear of failure.
Develop a Clear and Compelling Vision
Craft a clear and compelling vision that articulates the company's long-term goals and serves as a guiding principle for setting priorities. Communicate this vision across the organization to foster a shared sense of purpose and ensure that everyone is working towards the same objectives. This will help create a unified focus on the most critical growth drivers.
Summary
The struggles of setting clear priorities and maintaining focus on them is a complex challenge faced by B2B technology companies. Navigating the dynamic market environment and internal pressures requires a delicate balance between adaptability and discipline.
As C-Suite executives, it is our responsibility to continuously reevaluate our priorities to ensure that they are aligned with our company's long-term goals and revenue targets. By recognizing the factors that inhibit organizations from establishing and adhering to strategic priorities, and implementing practical strategies, we can set the stage for sustainable growth and success in the competitive B2B technology industry.
Subscribe
Subscribe Here!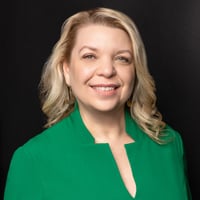 Rhonda Giedt
Rhonda Giedt is the Founder of Straight Talk Marketing and a fractional CMO who helps B2B tech companies overcome obstacles to get to the next growth milestone. She has experience in multiple industries such as healthcare, cloud storage, manufacturing, sustainability, research, connected devices and more. She also has three successful exits with two B2C companies being acquired (one by Electronic Arts and another by MTV Networks) and in 2021 helped a B2B SaaS company IPO on the NYSE.