Grow your Pavilion community with local PavilionX events.
Known for our regular Salon Dinners and annual functional Summits, we know Pavilion members crave more in-person connection. PavilionX offers members in good standing a new opportunity to plan and host their own local, in-person events.

What is PavilionX?
The PavilionX brand denotes a grassroots initiative, created in the spirit of Pavilion's overall mission to help go-to-market leaders and their teams unlock and achieve their full potential through community-powered learning. As such, PavilionX provides passionate Pavilion members in local communities around the globe the opportunity to use the Pavilion brand to connect with other members in their areas.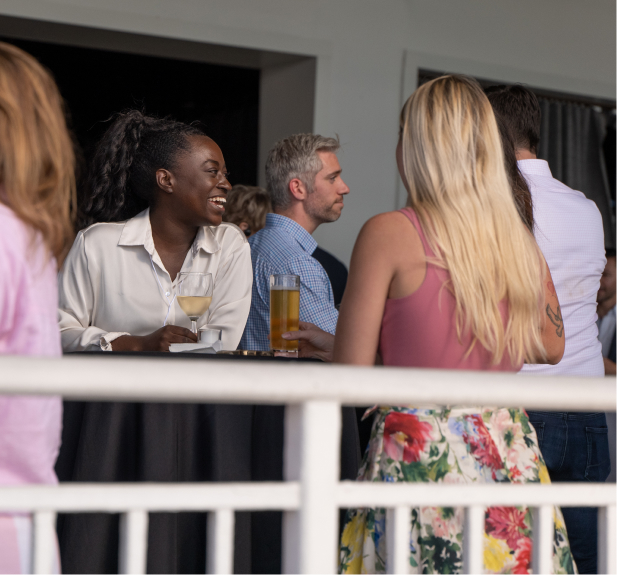 Before you apply
All Pavilion members in good standing are eligible to organize PavilionX events. And while hosting a PavilionX event is rewarding, it takes work. So, if you're thinking about organizing a PavilionX event, it's important to make sure you're ready to dive in and understand the requirements.
PavilionX events allow members worldwide to host their own events, customized to fit their local communities. These events, which can include happy hours, dinners, golf outings, informal lunches, parties, and more, may feature Pavilion members and/or influencers.
How to organize & host a PavilionX event
PavilionX events are organized independently under a free license granted by Pavilion.

Plan and submit
Pavilion members must submit an application for each individual PavilionX event to be approved before hosting. Prior to submitting your application have all of the details planned as the information you submit will automatically be added to the public PavilionX events calendar once approved.

Approval
Once approved, you'll receive an email containing a link to download brand assets and your event will be listed in the public PavilionX calendar.

Promotion
Promote across your local chapter and your network. PavilionX events are open to non-members to attend as well.
A PavilionX host must:
Protect the Pavilion brand:

PavilionX is still a reflection of Pavilion's vision and mission. We are entrusting organizers to protect and celebrate this.
Adhere to the Pavilion code of conduct:

Know and follow our code of conduct at all times. Failure to do so will result in your PavilionX license being revoked.
Keep it pitch-free:

PavilionX events are intended to share education and build relationships. For this reason, these events are "no-pitch zones". It is the organizer's responsibility to ensure that any speakers, presenters, etc. understand these guidelines.
Organize and promote your event:

PavilionX events are entirely grassroots; organizers are therefore responsible for managing, planning, and promoting their events. PavilionHQ will make every effort to include PavilionX in a publicly accessible PavilionX events calendar, but cannot provide additional resources.
We've designed PavilionX to be simple, lightweight, and unburden-some. There are very few rules for PavilionX event organizers, but we do expect you to follow them.
What is NOT Allowed
PavilionX events may not be used to promote spiritual or religious beliefs, commercial products or any kind of political agenda.

Pavilion doesn't grant licenses to individuals associated with controversial or extremist organizations.

Organizers may not affiliate the PavilionX or Pavilion brands with other conferences, non-profits, NGOs, schools or universities, corporations or commercial endeavors without the express written permission of PavilionHQ.
Note: Pavilion reserves the right to revoke any PavilionX license at any time, and renewal of PavilionX licenses is not guaranteed.
Ready to get started?
If you're an existing member and looking to set up a PavilionX event, click the link below to get started.
It is important that you have all of the details relating to your event ready to go before completing the application as the information you submit will automatically be added to the public PavilionX events calendar. This includes the event name, description, location, registration URL, and sponsor name(s).
Not a member? That's okay, learn more about Pavilion membership here!
Your event is posted on our public calendar, and we do our best to share information about events in our social media and communications – but we cannot make any guarantees. We encourage event hosts to do most, if not all, of their event promotion.

PavilionHQ premium events are planned, promoted, and hosted by Pavilion employees and vetted representatives. They are shared on our main events calendar and funded by Pavilion or selected sponsor(s). PavilionX events are created, planned, promoted, and hosted by members, and featured on a separate PavilionX calendar. They need not be premium experiences, and they are funded by members or sponsors up to $1,500 only.

While we plan to start the program with a few select cities, our goal is for PavilionX events to take place anywhere across the world that a member would like to host them. The idea is to spread the spirit of Pavilion events to all areas where members live and that are customized to fit local communities.

There are no parameters around attendee number requirement for PavilionX events.

PavilionX events are completely member and sponsor-funded. PavilionX events may charge fees for attendance to cover costs, and accept sponsorships of $1,500 or under, but all fee and sponsorship funds must go directly towards covering the cost of the event. Please see the section on Sponsors & Funding for more detailed information on this.

PavilionX events must be in-person and are designed to serve the local community where the host lives.

It is entirely up to PavilionX organizers as to which platforms they want to use.

Yes! PavilionX events are open to non-members and a great way to introduce folks in your network to all the Pavilion community has to offer.

You must fill out an application and get a separate license for each individual PavilionX event you plan.